"That song, released in 1979, became one of the most influential songs in
gothic rock
music, even though they saw themselves as a "dark glam" band and have always distanced themselves"
Love and Rockets, offshoot of Bauhaus, also continued the glam thing with this T-Rexy-sexy song, which was actually a very large hit in America, would you believe?
D.Ash and P. Murphy belong to this English pop archetype - the darkly pretty boy (although often they're not actually that pretty, it's all eyeliner and hair products).
In pop, it begins with probably with Barrett and Bolan (although almost certainly having precursors in other earlier art forms and cultural milieux), and then carries through with Murphy and other Goths sexgods (Ian Astbury, although he's not willowy enough really - too strapping and virile) ... and then into the Nineties with Placebo... and then the lineage resurfaces in a completely different field of comedy (albeit close-linked to music) with Russell Brand and Noel Fielding.
A memoiristic out-take from an early draft of the T.Rex chapter in Shock and Awe:
The party was going to be legendary. It was being thrown by a friend whose parents ran a boarding school near Ipswich and were away on their summer vacation. The idea of this place of education being so deserted and divested of authority was powerful enough to pull us a considerable distance across England. Excitement mounted on the coach journey and the long walk through fields from the bus stop to the school.
But the build-up turned out to be more thrilling than the party itself. It took place in the headmaster's house, as opposed to spilling riotously through the classrooms and into the gym, and, while packed, consistently mostly of people milling around and drinking. Nothing really ever happened. Certainly nothing like mayhem. Only two things stick in my memory about the night. One was attempting to sleep in a bath tub, like I'd seen in the movies, and discovering it doesn't work. And the other was the boy dancing to T. Rex.
We were sat in some kind of side-room, a little bored and not nearly drunk enough. And then this young man, in his early twenties probably, put "Get It On" on the record-player and danced, sinuously and seductively, I recognize the boy now as a type: darkly luscious, willowy, imp-of-the-perverse glint in the eye. An English archetype, running from Syd Barrett and Mark Bolan, through Peter Murphy and other Goth male singers... well, to Noel Fielding and Russell Brand. The boy wasn't dancing as encouragement for us to join him, he wasn't trying to get the stalled party started. He was dancing purely for display – splaying himself as an object for visual delectation, a plaything for our gaze.
I wasn't turned on exactly, but I was entranced: at once admiring and envying the feline self-confidence it took to preen, prance and pose like that. A dance done in a mirror of people, the performance spoke to something inside me, in much the same way as the strange shapes thrown by another charming man, Morrissey, would, a year or two later on Top of The Pops.
I knew "Get It On," of course, but it felt like years since I'd heard it. T. Rex had been so massive for three years in the early Seventies that, like the Beatles and The Stones, they'd never faded from pop consciousness altogether. But in the early Eighties, Marc Bolan wasn't really present as a reference point or resource for current musicians, unlike David Bowie and Bryan Ferry, pervasive influences throughout New Pop and New Romanticism, from their vocal style and hair to their strategies and sensibility. Just about the only glimpse of Bolan-reverence in those days was when Bauhaus, the band fronted by Peter Murphy, covered "Telegram Sam". But that was just a prequel to their more famous cover of "Ziggy Stardust", which got them on Top of the Pops. In 1983, singles by T. Rex and other glam groups were deejay favorites at The Batcave, the hub of the germinal Goth scene. But really, that was about it until later in the decade, when The Smiths put out some blatantly T.Rexy-sounding singles, while house producer Baby Ford attempted to refurbish "Children of the Revolution" as a rave anthem....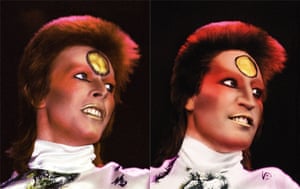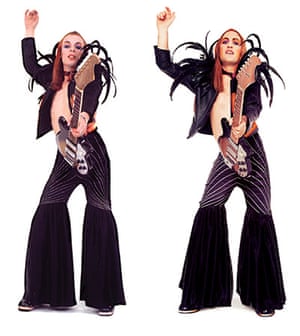 A bit on Bauhaus from
Shock and Awe
:
October 1982
–
Bauhaus's single of "Ziggy Stardust" lands the Goth group on Top of the Pops, where Peter Murphy reenacts Bowie & Ronson in the form of some stylized homo-erotic interplay with guitarist Daniel Ash. On the B-side, there's another glam homage: a cover of Eno's proto-punk rampage "Third Uncle". But this isn't even their first glam tribute: in 1980 Bauhaus put out a single of Bolan's "Telegram Sam. Speaking to Seconds magazine, Ash recalls how he and Murphy worshipped Stardust-era Bowie: "It wasn't a sexual thing, it was aesthetic, a beautiful thing to look at. … It was like I'd never seen that before, some sort of alien --is it male or female?" Bauhaus and their idol soon coexist in the same filmic fantasy-space thanks to The Hunger. The 1983 movie opens with Bauhaus performing their foundational Goth track "Bela Lugosi's Dead" in a New York nightclub, into which vampire lovers John and Miriam –Bowie and Catherine Deneuve – prowl in search of prey. The credits roll over Murphy's gaunt beauty, intercut with Bowie and Deneuve's faces as they silently and coldly select a pair of pretty things on the club floor to lure home. Back-dropped by Bauhaus's contorted poses, one credit is for "Make-Up Illusions" - a perfect Glam-Goth moment.
A bit on Bauhaus from
Rip It Up and Start Again
Their 1979 single "Bela Lugosi's Dead"--generally identified as the ground zero of Goth proper--appeared in Bowie's vampire flick
The Hunger
; Bauhaus performed the song in a nightclub scene, Murphy writhing in a cage. The Bowie-clone tag, based largely on Murphy's mannered vocals, proved impossible to shake off, and in the end Bauhaus tried to exorcise it through the sardonic gesture of covering "Ziggy Stardust" with exacting fidelity. When they appeared on Top of the Pops to mime "Ziggy" in 1982, Murphy and guitarist Daniel Ash even replicated the
saucy homoerotic interplay between Bowie and Mick Ronson.
Murphy's striking looks--teeteringly tall, gaunt, with a bruised pout and perfect cheekbones--made him a Goth pin-up, the ultimate erotic enigma. But what came out of those luscious lips was portentous and preposterous, an overblown farrago of sex and death, religion and blasphemy. Raised Catholic, Murphy kicked back against his upbringing with sacrilegious ditties like "Stigmata Martyr", which featured him reciting "in the name of the father and the son and the holy spirit" in Latin, and was accompanied live by simulated crucifixion postures.
With their shock-rock gestures and guignol grotesquerie, Bauhaus were actually far closer to Alice Cooper than David Bowie: exciting, but difficult to take seriously. They had a superb grasp of rock-as-theatre, using stark white lighting to cast dramatic shadows. "It's important to go to the theatre and escape from the street, use the space, find another element," Murphy told Melody Maker.
Like Cooper, they made flashy, thrilling singles--the dark, twisted artfunk of "A Kick In the Eye", the swirling vaporous mystery of "Spirit". Ash's guitar bore comparison with Gang of Four or Joy Division at their most harsh and hacking, especially on Bauhaus's early postpunk-aligned efforts like "Terror Couple Kill Colonel" and "Bela Lugosi's Dead," with its fret-scraping guitarscree and metallic dub effects. But the albums sagged under the weight of ponderous pretensions.